I may be able to keep my New Year's resolution not to waste so much time trying to engage with other-minded people on Twitter. Following a short reply to a minor account on medical malpractice, my account has been suspended.
My appeal to Twitter's support team will probably fall on deaf ears. The woke enforcers of progressive technofascism do not do debate. They are only concerned with discussing how to roll out their vision of our Brave New World and how to deal with dissidents.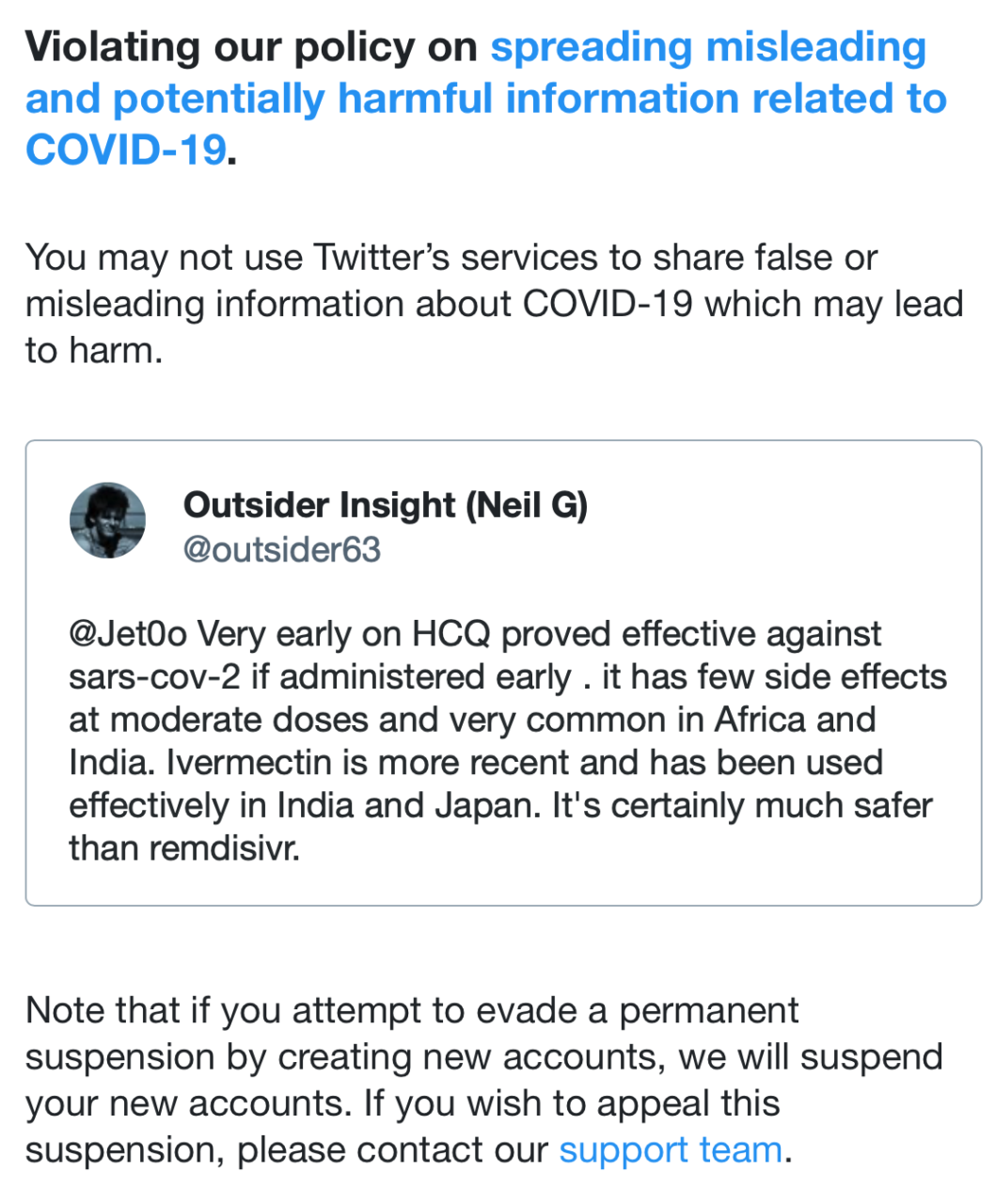 I would like to thank you for clarifying your opposition to democracy, which as you know cannot function without free speech and open debate on all key ethical and scientific issues of the day. Nobody has a monopoly on truth.
You claimed that I spread "misleading and potentially harmful information related to COVID-19." In Mid 2021 I had a one-week suspension with the same justification for a reply to a user with a small following alluding to tried and tested therapeutics for viral infections currently known loosely as covid-19. The keywords that attract the attention of your censors are ivermectin and hydroxychloroquine. We have over 60 years of data on the latter and around 30 years for the former. As I have stated in many other comments, these drugs should only be used at moderate doses in combination with other treatments. I have personally taken HCQ in Africa and am very familiar with its mild side effects (drowsiness). It may alleviate symptoms and reduce the likelihood of hospitalisation. As stated in the offending tweet, Ivermectin has been widely deployed in India, Japan and Iran to treat sars-cov-2 symptoms. There are numerous abstracts on PubMed discussing its efficacy:
As in most medical controversies, other studies have reached different conclusions, but I invite you to find evidence that early treatment with ivermectin at moderate doses can cause significant harm compared to "no treatment" followed by dangerous antiviral drugs such as remsdisivir accompanied by ventilation.
I suggest you censored my minor account for ideological reasons. The ball is in your court. If you persist in suspending accounts that counter the narrow covid narrative preferred by your partners in the biotech industry, then we can only conclude your organisation is opposed to liberal democracy and UNESCO's Universal Declaration Code on Bioethetics and Human Rights.
If your platform cannot accommodate vigorous debate on such matters, its relevance will wane. It will be little more than a virtue-signalling echo chamber tolerating only controversies that do not challenge your biotech partners. One may debate whether the Earth is flat or whether Elvis Presley lives on the far side of the Moon, but one may not question the alleged "science" that regimes around the world exploit to justify growing authoritarianism.
You have recently purged many other accounts such as that of Dr Robert D Malone, the inventor of mRNA injections that you seem so keen not just to promote but to mandate as a condition for participation in society.
Prove me wrong and unsuspend my account. I welcome anyone to challenge my assertions. I have always been respectful and enjoy interacting with others who hold different views. Without open debate in the public sphere, our society will descend into authoritarianism.
Future historians will not treat tech giants like Twitter kindly if you persist with this attitude.